Our Head of Crime and Regulatory explains to us what the sex offenders register is & what it means for those who are to be registered on it.
What is the Sex Offenders Register?
This is a register containing the individuals cautioned, convicted or released from prison for a sexual offence against both children and adults since 1997.
What offences might require registration on the Sex Offenders Register?
The offences are listed under the Sexual Offences Act 2003. The definition is wide and covers a range of offences against both children and adults. It includes offences from voyeurism, possessing indecent images to sexual assault and rape.
What are the notification requirements?
All convicted sex offenders must register with the police, in person, within 3 days of their caution, conviction or release from prison.  The courts will notify the police of a conviction and the individual must provide the following information: –
Name and any aliases
Address and any other addresses where they regularly stay
Whether they live with a child or are staying in a household where a child lives for at least 12 hours a day
Details of conviction
Details of bank accounts to which they have access
Date of birth
National insurance number
Details of any passports they may hold
Once registered, the public protection team, who are part of the police, will visit the offender at home to check that they are living there and undertake an assessment.
Offenders can expect the police to take photographs of them, and details added to the national police database. The police may make periodic home visits to check that people are where they say they are. The frequency of the visits will depend on the risk level.
High risk offenders can also be subject to further police surveillance such as electronic tagging. This will involve multi-agency public protection panels which include the police, probation, social services and any other required agencies.
Failure to join the sex offenders register is committing a separate criminal offence. This could result in a prison term of up to 5 years.
Other requirements for a registered offender
Registration must be renewed on an annual basis
Changes of name or address must be disclosed to the police within 3 days
When spending 7 or more days away from home, the police must be notified within 3 days
The police must be notified when travelling outside of the UK
Failure to notify the police of any of the above will also be a criminal offence
How long will I be subject to notification requirements?
This depends on the length of the sentence received. A custodial sentence of 30 months or more means that the offender will remain subject to indefinite notification requirements.
Can I have my registration reviewed?
A review can only take place once an individual has been on the register for 15 years, or 8 years in the case of a minor. An application can only be made if there is no sexual offender prevention order (SOPO).
Any application for removal from the sex offenders register will involve disclosing information about accommodation, employment, relationships, attitude to offending and you must specifically show how your behaviour has changed and satisfy the police that there is no longer a risk.
What is a Sexual Harm Prevention Order (SHPO)
These orders can prevent you from having unrestricted access to the internet or unsupervised contact with children.
How long will I be on the Sex Offenders Register?
The length of time that you remain on the register and subject to notification requirements will depend on the sentence you receive.
We have recreated the table below from NACRO. You can find further information and guidance on their website.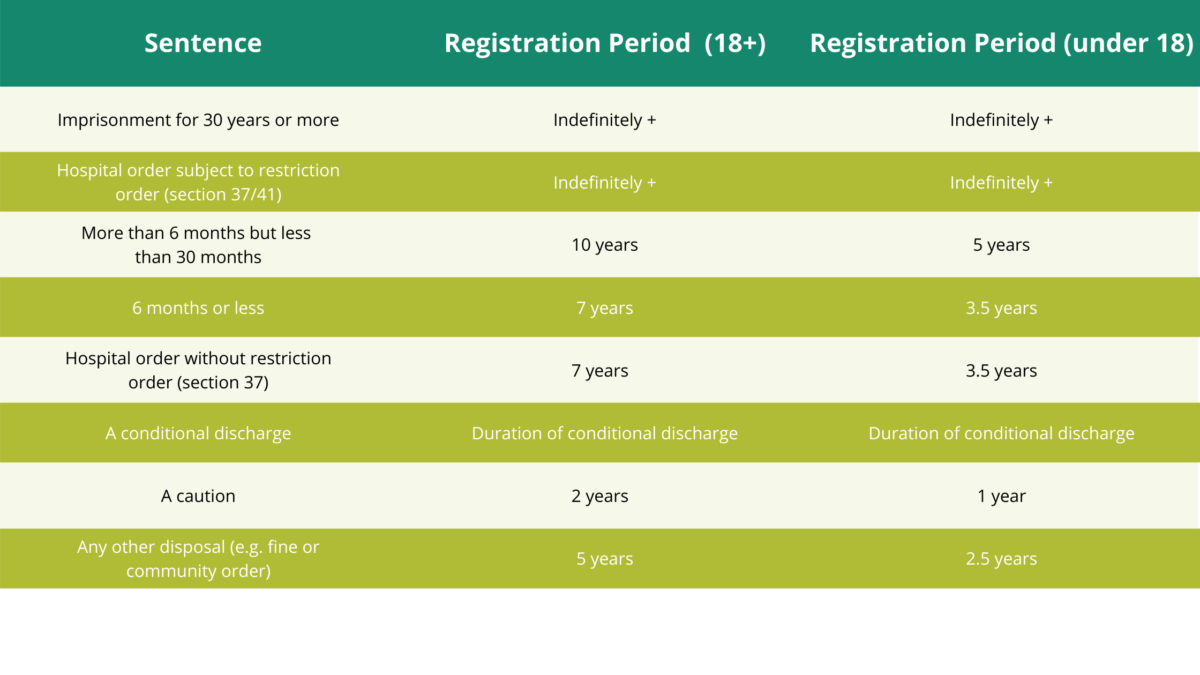 Expert Legal Guidance
If you are facing allegations of sexual assault, contact our Crime team. Call us on 0161 969 3131 or leave your details and we'll call you back.